Encryption
encryption is the process of encoding a message or information in such a way that only authorized parties can access it and those who are not authorized cannot.
A message send by authority to the same authority to maintain privacy in the authority this process is know as Encryption.
For example: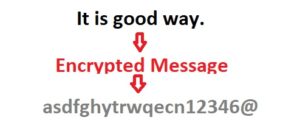 Used by
Military,raw agencies and other public protecting agencies.
To secure our country from external or internal threat.
Encryption has long been used by militaries and governments to facilitate secret communication. It is now commonly used in protecting information within many kinds of civilian systems. For example, the Computer Security Institute reported that in 2007, 71% of companies surveyed utilized encryption for some of their data in transit, and 53% utilized encryption for some of their data in storage. Encryption can be used to protect data "at rest", such as information stored on computers and storage devices (e.g. USB flash drives). In recent years, there have been numerous reports of confidential data, such as customers' personal records, being exposed through loss or theft of laptops or backup drives; encrypting such files at rest helps protect them if physical security measures fail.Digital rights management systems, which prevent unauthorized use or reproduction of copyrighted material and protect software against reverse engineering (see also copy protection), is another somewhat different example of using encryption on data at rest.